Strategic Management
Subscribe to posts
Pyramid : Levels of Strategy 
Corporate Strategy (aka Enterprise)
Business Strategy 
Functional Strategy (aka Operational)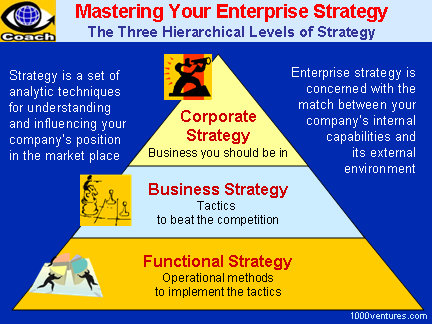 Corporate strategy

focuses on determining which businesses the company should be in. 

Business strategy

develops competitive advantages within a businesses segment. 

Functional strategy

operates at the level of marketing, operations and finance to ensure that each part of the company has strategies to support the business.
Corporate strategy refers to the overarching strategy of the diversified firm. Such a corporate strategy answers the questions of "in which businesses should we be in?" and "how does being in these business create synergy and/or add to the competitive advantage of the corporation as a whole?"
Business strategy refers to the aggregated strategies of single business firm or a strategic business unit (SBU) in a diversified corporation. According to Michael Porter, a firm must formulate a business strategy that incorporates either cost leadership, differentiation or focus in order to achieve a sustainable competitive advantage and long-term success in its chosen arenas or industries.
Functional strategies include marketing strategies, new product development strategies, human resource strategies, financial strategies, legal strategies, supply-chain strategies, and information technology management strategies. The emphasis is on short and medium term plans and is limited to the domain of each department's functional responsibility. Each functional department attempts to do its part in meeting overall corporate objectives, and hence to some extent their strategies are derived from broader corporate strategies.